Emerald Isle exploration and Irish "mocktails" in focus as St. Patrick's Day nears.
With St. Patrick's Day approaching, eyes (Irish and otherwise) are on Ireland as a top travel destination as well as inspiration for annual green-clad celebrations here locally. Whether you're headed to Ireland or staying stateside to celebrate, AAA Kansas is "going green" this week with travel planning expertise, events, tips and great deals for a memorable journey to the Emerald Isle and offering celebration suggestions and safety tips for those staying closer to home.
Destination Ireland
Ireland continues to be a very popular choice for American travelers, regularly rating as one of the top international travel destinations. AAA Travel agents are seeing a strong demand for booking Ireland trips for this spring and summer.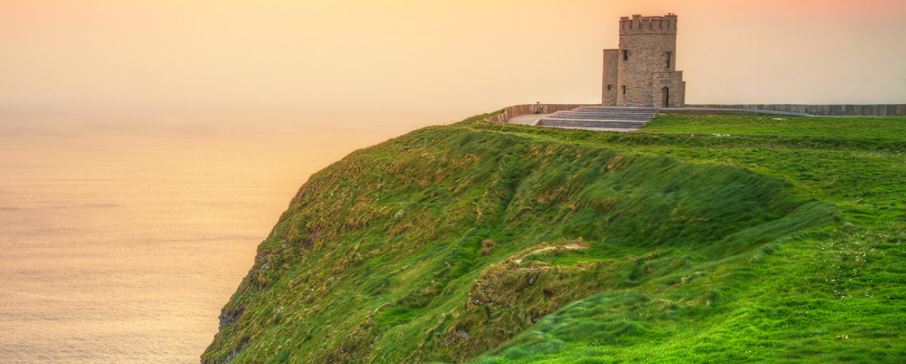 "Ireland is, for good reason, always a favorite place to travel for AAA members, because of its beautiful emerald scenery," said Jennifer Haugh, AAA Kansas spokeswoman. "It also provides one of Europe's best values, is easy to get around, and has authentically Irish cities and hamlets full of friendly people, great food and drink, as well as traditional music to tap your feet to. Plus, for first-time international travelers, Ireland is easy because it's an English-speaking country."
On March 15th, AAA Kansas is hosting a free Destination Ireland travel event at all five of its stores across the state. The event will highlight why Ireland is a top travel destination, and attendees will receive travel tips and information, learn about must-see Ireland locales, and have access to exclusive offers. AAA Travel experts will be on hand to answer questions and discuss Emerald Isle trip itineraries.
            Destination Ireland – Free Travel Events
            Thursday, March 15 – 6:30 p.m.
Lawrence                    3515 Clinton Parkway                         (785) 843-1600
Manhattan                   321 Southwind Road                          (785) 776-3131
Topeka                        1223 S.W. Wanamaker Road             (785) 438-6500
Wichita East                7730 E. Central Ave.                          (316) 685-5241
Wichita West              2210 N. Maize Road                           (316) 529-7980
Space is limited, call or visit 
AAA.com/Ireland
 to RSVP for the event nearest you.
Ireland offers travel excursions and experiences for just about any interest:
Visiting your roots – 35 million people in the United States claim Irish ancestry, so many like to visit where their family ancestry originated

Tour or even stay in a real castle

Kiss the famous Blarney Stone

Visit the 700-foot high Cliffs of Moher on the Atlantic Ocean

Explore Dublin, Galway or Killarney National Park (or Belfast in Northern Ireland)

Experience an authentic Irish pub and enjoy a Guinness or Harps or an Irish Whiskey at its origins

Excellent Golf – one fourth of the world's links-style courses are in Ireland

Visit locations where well known TV shows and movies were filmed (Game of Thrones, Star Wars: The Force Awakens, Braveheart, The Princess Bride, to name a few)

Horseracing is one of Ireland's most popular spectator sports, and visitors can plan a trip around a day at the races and a visit to one of the many thoroughbred horse farms on the island.
Additional Ireland travel information, including Top 10 Ireland experiences, travel tips, cruising Ireland, guided vacations and where to stay is available at 
https://kansas.aaa.com/travel/ireland
.
Celebrate St. Patrick's Day Safely
Many people celebrate St. Patrick's day at parades, parties or pubs. Whether you will be gathering with friends at a house party or on a pub crawl, if alcohol is part of the festivities, make sure you designate a sober driver, call a taxi, ride share such as with Lyft or Uber, or take public transportation to ensure you get home safely.
From 2011 to 2015, during the St. Patrick's Day holiday period (6 p.m. March 16 to 5:59 a.m. March 18), 252 people were killed nationwide due to drunk- driving crashes, based on statistics from NHTSA.
"The consequences of driving impaired are not worth the risks," said AAA Kansas' Jennifer Haugh. "Drunk driving can result in death, jail time, the loss of your driver's license, and higher insurance rates, as well as dozens of other unanticipated expenses ranging from attorney fees, court costs, lost wages, and vehicle towing and repairs. So if you enjoy too much green beer and get behind the wheel, it could cost you a lot of green from your bank account, or much worse."
If you are hosting a St. Patrick's Day party where alcohol will be served, be a responsible host and offer plenty of food as well as non-alcoholic beverages, such as the following easy, great tasting "zero-proof" mocktail:
            St. Paddy's Shamrock Sangria
2 c. orange juice (chilled)
1 c. unsweetened white grape juice
1 c. cranberry juice
1 L. lemon-lime soda
2 c. assorted fresh fruit (oranges in wedges, thinly sliced lemons/limes, sliced peaches,
and halved strawberries)
Combine all ingredients in pitcher (with ice).
Add green food coloring if desired.
For more information on how to host a great party while preventing the tragedy of a drunk driving crash when your guests leave, visit 
aaa.com/public-affairs/mocktails
 for the ABC's of Party Giving (
A
lcohol Alertness, 
B
uffet, 
C
arpool) plus more Irish mocktail recipes.